ÆRENA Galleries & Gardens
Reflecting the heroic spirit of Teddy Roosevelt's provocative "Man in the Arena" speech, ÆRENA Galleries & Gardens creates captivating spaces that celebrate the work of over one hundred emerging to internationally renowned artists who fearlessly express authenticity and integrity their work.
"It is not the critic who counts. The credit belongs to the man who is actually in the arena; who at the best knows in the end the triumph of high achievement, and who at the worst, if he fails, at least fails while daring greatly."
- Theodore Roosevelt
ÆRENA Galleries & Gardens' uniquely beautiful art and design venues feature contemporary art and sculpture, as well as finely-edited collections of furnishings, objects and curiosities dating from the 18th century to the present.
---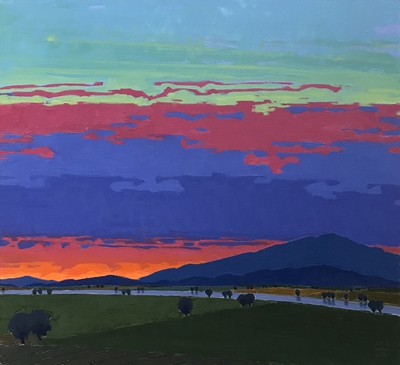 WHAT A WONDERFUL WORLD
NOVEMBER 15TH – DECEMBER 15TH
VIEW FULL EXHIBITION PORTFOLIO HERE
ÆRENA Galleries & Gardens invites you on a journey of collective observation, perception, and celebration inspired by the remarkable vistas that surround us. In What A Wonderful World, we present the works of artists James Armstrong, John Karl Claes, Doug Smith, and Victoria Veedell who each uniquely approach the timeless art of landscape painting, creating unparalleled vignettes of the beauty of our planet.
Doug Smith brings to life vast planes of melting colors and geometric lines, with the inclusion of meticulously painted farmstead scenes paying homage to the idyllic farmhouses of times past. The tiny scenes, brimming with familiarity and warmth, anchor the endlessly abstract landscape in a believable reality. With vivid planes of color and an attention to refined geometric composition, Smith's paintings are an intimate mix between abstract expressionism and a dash of realistic landscape painting, inspired by long flights over the country and even longer drives across it.
James Armstrong's paintings, often created on the back of old road signs, boast serene landscapes with hints of metal glinting through, creating a glimmer of the sun on the surface of a pond or adding to the luminosity of a cloud. Armstrong begins his paintings with a fully-realized composition before beginning to scrape away layers in a process he refers to as "reductive." He paints, deconstructs, and repaints, cycling through the process over and over until the painting is finally completed, a flawless balance between perfection and destruction.
Painting only from memory and small, rapidly-drawn sketches, John Karl Claes brings his landscapes to life with sky-high perspectives and rich, saturated colors that surprise the viewer with how natural the intense hues feel in the context of a peaceful landscape. Claes' paintings evoke an almost surreal sense of wonder for the viewer about how such open, never-ending spaces can be captured within the rectangular confines of a painting.
Victoria Veedell captures the essence of nature by examining the effects of light on form in the natural world in her softly glowing landscape paintings. Inspired by her travels globally as well as adventures near her home in California, Veedell uses her oil paints to explore gradients of light and color. Exposed by her travels to the drastic differences in atmosphere and landscape around the world, Veedell transforms her emotional responses to nature into works of art utilizing vibrant underpainting and soft oils to encapsulate the endless possibilities of stillness and serenity she sees.
Join ÆRENA Galleries & Gardens as we celebrate and think to ourselves 'What A Wonderful World .
---
Connect with an Art Consultant by
email
or phone | 707.603.8787